There are plenty of beaches and places to swim in Överkalix. Sanningslandet in Lansjärv is a child-friendly option, as well as Kvarnbäcken in Gyljen, and for something a bit more central there is Bränna Camping (Swedish Website) with its swimming pool and fun activities. The lake Vallsjärv, not far from Jockfall, offers a beautiful beach as well as a cosy campfire site and a most convenient outhouse.
The beach at Kvarnbäcken is one of Överkalix's finest. A sandy beach with a bathing dock, changing rooms and a campfire site.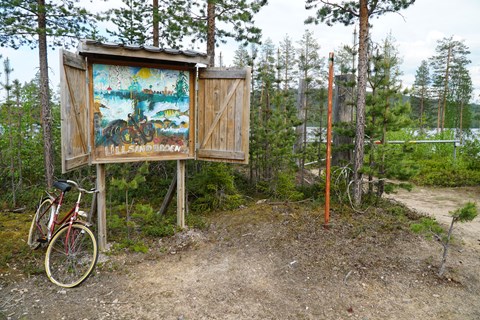 The beach at Vallsjärv.
Photo: Linnea Nilsson - Waara
Sanningslandet beach (also in Lansjärv):
Vallsjärv beach (Lillsandudden beach): 
Outdoormap
Kvarnbäcken, Lansjärvs place of bath, Sanningslandets place of bath (also in Lansjärv) and Vallsjärvs place of bath (Lillsanduddens place of bath) are marked in this map with information.